Pest Odyssey 2011 Conference Programme:
26th- 28th October 2011

(please note this programme may be subject to change)
Wednesday October 26th:

7.00-10.30pm:
Pre-registration & Icebreaker reception at The Orangery, Kensington Palace, Historic Royal Palaces
Thursday 27th October:

The British Museum, BP Lecture Theatre
9.30-10.00: Registration
10.00-10.10: Introduction and welcome
TBC

10.10-10.40: Ten Years in- from Vodka beetles to risk zones

David Pinniger
10.40-11.00: Ten years of integrated pest management at English Heritage
Amber Xavier-Rowe and Dee Lauder (English Heritage, UK)
11.00-11.30: Coffee and Trade Show
11.30-11.50: Efficacy, Effects, Economics: The problem of distributing pest control advice to cover contingency
Tom Strang (Canadian Conservation Institute, Ottawa, Canada) and Rika Kigawa (National Research Institute for Culteral Property, Tokyo, Japan)
11.50-12.10: Integrating IPM Risk Zones and Environmental Monitoring at the Museum of London
Adrian M Doyle, (Museum of London, UK), Chloe. Evans (Plowden Smith, UK) Maria Yanez-Lopez (Museum of London, UK)
12.10- 12.30: Mapping museum pest activity- a review of the development of KeEMu to be a generally applicable tool for pest management
David Smith (Natural History Museum, London, UK)
12.30- 1.30: Lunch and Trade Show
1.30-1.50: Developing and implementing an Integrated Pest Management (IPM) concept in the large collections of the National Museums in Berlin
Pascal Querner and S.Simon (Rathgen Research Laboratory, Berlin, Germany)
1.50-2.10: Building with Pest Management in mind. A case study from The Canadian Museum of Nature
Marcie Kwindt and Laura Smyk (Canadian Museum of Nature, Ottawa, Canada)
2.10-2.30: The brown carpet beetle, Attagenus smirnovi: how will climate change affect its future pest status?
Lisa Stengaard Hansen (Aarhus University, Denmark), Monika Akerlund & Jan-Erik Bergh (Swedish Museum Natural History, Stockholm), Terje Grontoft (Norwegian Institute for Air Research, Norway), Morten Rhyl-Svendsen & Anne Lisbeth Schmidt (National Museum, Brede, Denmark), Karl-Martin Vagn Jensen (Aarhus University, Denmark)
2.30-2.50: Moths, Exosex and floor voids at Hampton Court Palace

Samantha Higgs and Jonathan Bridal (Historic Royal Palaces, UK)
2.50-3.20: Coffee and Trade Show
3.20- 3.40: The wider use and interpretation of insect monitoring traps
Robert Child (Pest Consultant, Wales, UK)
3.40- 4.00: dealing with an infestation of Reesa Vespulae while preparing to move to new stores

L. Leonard and S.Vaucheret (National Museum of Ireland, Dublin, Eire)
4.00- 4.20: or The measured, slim-line implementation of integrated pest management for National Trust for Scotland

Mel Houston (National Trust for Scotland, UK)

4.20- 4.40: Driven to distraction by moths: IPM on the Riverside Museum Project
Gretel Evans (Museum of Transport, Glasgow, Scotland, UK)
4.40pm: Session ends and Trade shows

7.00pm Conference dinner at The Darwin Centre, The Natural History Museum, London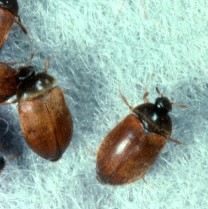 Friday 28th October:

The British Museum, BP Lecture Theatre
9.30-9.50: House mice in historic houses and museums
Ed Allan (Consultancy Services, Kent, UK)

9.50- 10.10: Minus 20 Degrees in the sun
Anne Bancroft and Val Blyth (The Victoria & Albert Museum, UK)
10.10-10.30: Mobigas at The National Gallery Victoria, Australia and the struggle for recognition by quarantine authorities

Janelle Borig (National Gallery Victoria, Australia)

10.30-10.50: Assessment of Thermo-Lignum oven eradication treatment on natural and synthetic polymers and resins
Dr Marieanne Davy Ball (Kulturhistorisk Museum, Oslo, Norway)
10.50- 11.50: Coffee and Poster Session this is an opportunity to enjoy the selection of posters on display and ask the authors questions
11.50- 12.10: Effects of fumigants and non-chemical treatments on DNA moleculess and proteins: case studies on natural history specimens and proteinaceous components of museum objects
Rika Kigawa and Noriko Hayakawa (National Resarch Institute for Culteral properties Tokyo, Japan), Tom Strang and Gregory Young (Canadian Conservation Institute, Ottawa, Canada)
12.10-12.30: integrated Pest Management at the National Museum of Ethnology, Japan: Re-evaluation of preventive measures and control stratagies
Naoka Sonoda and Shingo Hidaka (National Museum of Ethnography, Osaka, Japan)
12.30- 12.50: To bag or not to bag? Treatment of a large Solomon Islands war canoe and the growing threat of dry wood termites to collections in Australia
Colin Macgregor, Heather Mackay, (The Austrailan Museum, Sydney, Australia) and Alex Roach (Heritage Pest Management, NSW, Australia)

12.50- 1.50: Lunch and poster session

1.50- 2.10: Webbing clothes moth in the Victoria & Albert Museum British Galleries: a successful campaign
Val Blyth and Suzanne Smith (Victoria & Albert Museum, London, UK)

2.10-2.30: Outsmarting the persistent moths: Strategic planning for pest control at Nordiska Museet, Sweden
Eva Hakanen (Nordiska Museet, Stockholm, Sweden)
2.30-2.50: Quick, quick put the lid back on! The re-evaluation and updating of the IPM (Integrated Pest Management) at the Scott Polar Institute, Cambridge
Fiona Cahill and Lucy Martin (Scott Polar Research Institute, University of Cambridge, UK)

2.50- 3.10: Coffee and final opportunity to look at posters

3.10-3.30: But how do I know I've got pests?
Jane Thompson Webb (Birmingham Museum & Art Gallery, Birmingham, UK)

3.30-3.50: Crazy as a bedbug: The Integrated Pest Management Working Group's development of resources best practices for the museum community
Rachael Perkins- Arenstein (A.M. Art Conservation New York, USA), Neil Duncan and Lisa Elkin (American Museum Natural History) and Christopher A. Norris (Peasbody Museum of Natural History at Yale University, USA)

3.50- 4.10: Skins, Shoes and 2500 saplings: combining Integrated Pest Managment and contemporary art installations
Ann French (Whitworth Art Gallery, Manchester, UK)
4.10-4.30: Where do we go from here: The challenges of implementing an Integrated Pest Management Programme at the British Museum
Julie Phippard (The British Museum, London, UK)
4.30- 5.00: Closing Comments
Jane Thompson Webb
Collections Services Manager, Birmingham Museum & Art Gallery, Birmingham, UK)
5.00: Conference ends